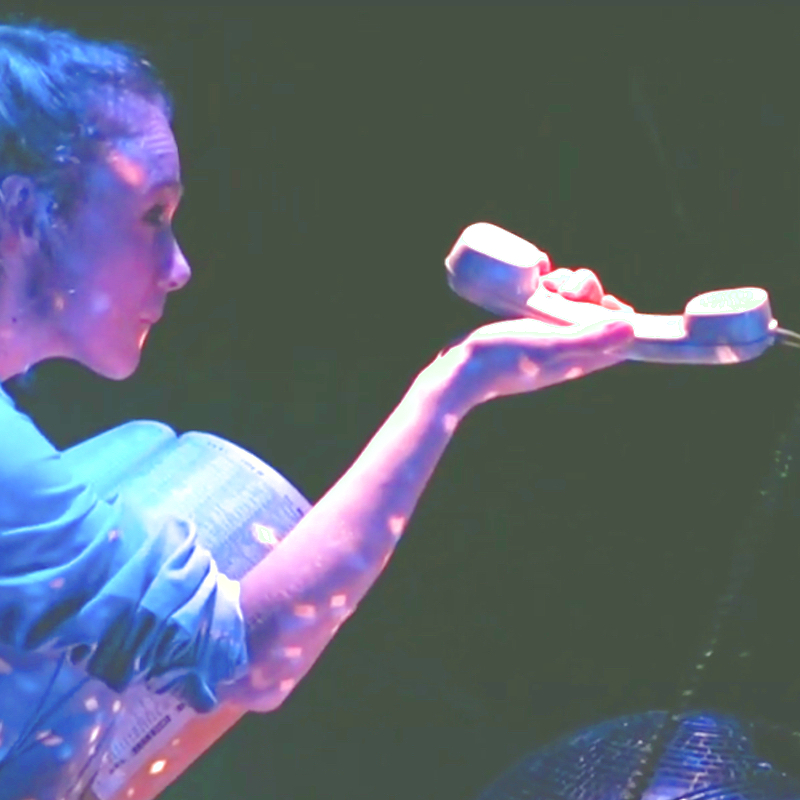 DREAM MACHINE
Concert-Performance with texts by Matin Soofipour Omam
Performance: Anke Retzlaff, Peter Florian Berndt (Audio Editing, Sampler), Dominik Schad (Drums),
Lukas Schäfer (Synthesizer)
Directed and devised by: Anke Retzlaff
Composition: Peter Florian Berndt, Jo Beyer, Anke Retzlaff, Lukas Schäfer
Co-director: Paul Jumin Hoffmann
Dramaturgy: Katharina Rösch
Stage: Marie Gimpel, Karolina Wyderka, Sabine Mäder
Costumes: Karolina Wyderka
Lighting Design: Philippe Waldecker
Sound: Anna Jungfer
Technical Supervisor: Philippe Waldecker
Phone Booth Design & Programming: Marco Schretter, Philippe Waldecker, Karo Wyderka
Production: Dilan Aytaç
We all have dreams. Do they find us or do we invent them? And how does our dream world change when a crisis hits and reality is turned upside down?"
A telephone booth in the Theaterhaus foyer invites visitors to leave their dreams, fears or longings as audio messages. From the texts of Matin Soofipour Omam and the recorded voices from all over the world, the protagonist and her band develop a polyphonic composition between dream and reality, song and spoken word, electro and jazz.
Dream Machine is about the processing of a bereavement in sleep. The Corona pandemic prevents a farewell and sets repression in motion, and yet death and repression prove to be timeless. In the dream, what remains hidden in reality is revealed, everyday situations emerge as »day residues,« deeply buried needs and fears return in coded form. And somewhere in this shared dream, through which the actress and her band race like astronauts in a spaceship, the telephone rings all the time. Voices are coming out of the receiver, seeming to come from somewhere far away–perhaps from a phone booth–and report on their dreams, and then again nothing but static, outside the stars are flying by and one has to sincerely ask oneself whether the other person was really on the phone just now or whether it was just imagination.
The development of this production was supported by the Fonds Darstellende Künste with funds from the Federal Government Commissioner for Culture and the Media, the Ministry of Culture and Science of the State of North Rhine-Westphalia, and the NRW Landesbüro Freie Darstellende Künste.